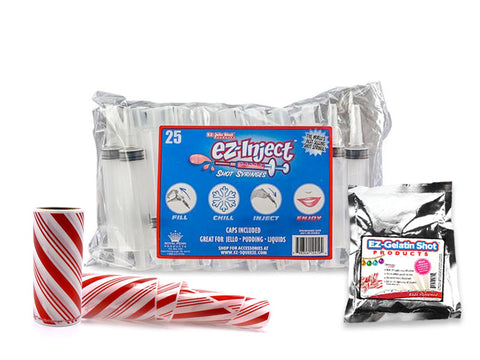 25 Candy Cane Medium Injector Combo Kit (1.5OZ)
LIMITED TIME ONLY! Enjoy a seasonal peppermint jello shot with the entire family! We've captured the essence of the holidays, in a delicious minty balance. Santa himself would be jealous!
THIS IS A 1.5OZ CANDY CANE COMBO KIT-INCLUDING EVERYTHING YOU NEED TO MAKE 25 MEDIUM WHITE PEPPERMINT CANDY CANE JELLO SHOT INJECTORS WITH FESTIVE CANDY CANE SYRINGE WRAPS.
One 6.78 ounce package of White Peppermint EZ-Jello Shot Mix
One 25 Pack EZ-Inject Jello Shot Syringes (Medium 1.5oz)
One 25 Pack EZ-Wrapz Candy Cane (Medium 1.5oz) Decals

The white peppermint jello shot mix produces a white cream colored jello.
Each 6.78 oz Package of EZ-Jello Shot Mix YIELDS:
Approx 40 shots if using the 1.5oz EZ-Injectâ"¢ Jello Shot Syringes MEDIUM
Approx 35 shots if using the 2oz EZ-Squeezeâ"¢ Jello Shot Cups
Approx 30 shots if using the 2.5oz EZ-Injectâ"¢ Jello Shot Syringes LARGE
Mixing instructions are included; just add water and your favorite alcohol!
---