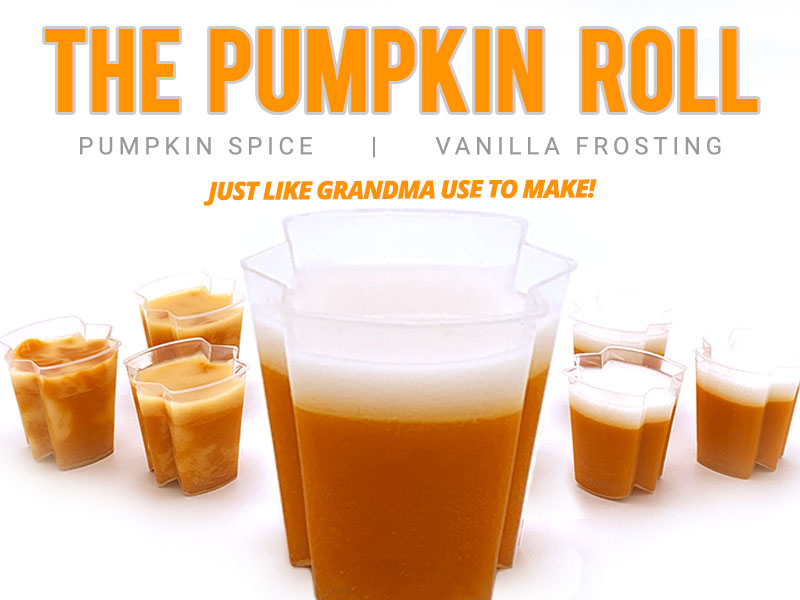 ---
Just like Grandma's Pumpkin Roll ours are fall deliciousness in a jello shot. You can make them as a swirled shot, or in two layers as shown in the image above.
These shots work well with our EZ-Squeeze Jello Shot Cup, or as a syringe with the EZ-Inject jello shot syringes.
The two solid layer shot is made by again 3/4 filling the cup with Pumpkin Spice Jello Shot Mix, and thoroughly chilling it. You can let the Vanilla Frosting rest at room temperature, until the pumpkin chilling is complete, then top the cup with 1/4 ratio of the vanilla.

The swirl is made by chilling and partially solidifying the Pumpkin layer, while room temperature cooling the vanilla layer. Then adding the Vanilla layer and pushing / swirling in to the white with a toothpick, or chopstick. NOTE: The Pumpkin Spice layer needs to be well chilled before attempting.
THERE IS A HIGH MARGIN OF ERROR IN CREATING THE SWIRL, AND WE ENCOURAGE YOU TO PRACTICE BEFORE MAKING YOUR ACTUAL SHOTS.
1 packet Vanilla Frosting Gelatin Shot Mix, made with vodka.
1 packet Pumpkin Spice Gelatin Shot Mix, made with spiced rum.

We filled each shot 3/4 with Pumpkin Spice Jello Shot Mix, and when chilled 1/4 Vanilla Frosting Jello Shot Mix.
 
Each 6.78 oz Package of EZ-Jello Shot Mix YIELDS:
Approx 40 shots if using the 1.5oz EZ-Inject™ Jello Shot Syringes MEDIUM
Approx 35 shots if using the 2oz EZ-Squeeze™ Jello Shot Cups 
Approx 30 shots if using the 2.5oz EZ-Inject™ Jello Shot Syringes LARGE


Everything You Need to Buy