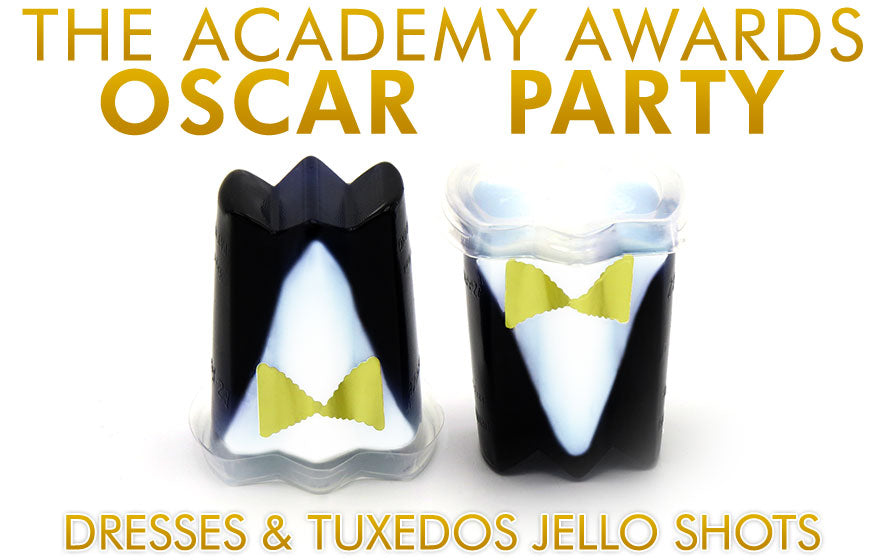 ---
Yield is approximately 60-70 EZ-Squeeze Jello Shots.
We prefer to pre chill the alcohol as well
Chill between each layer until jello is firmly set.
For best layer results, let the hot liquid gelatin come to room temperature - meaning don't add hot liquid gelatin on top of a cold layer.
Place completed shots in the refrigerator overnight (minimum eight hours).
WE ADDED AN ADDITIONAL 15 DROPS OF BLUE FOOD COLORING, and 10 DROPS OF RED FOOD COLORING TO DARKEN THE BLACK DRESS / JACKET.
1 Packet EZ-Jello Shot Products Purple Hooter Jello Shot Mix
1 Packet EZ-Jello Shot Products Vanilla Frosting Jello Shot Mix
1 Package EZ-Squeeze Jello Shot Cups With Lids
Liquor of your choice
Gold Foil Stickers for Bows / Bow Ties (Amazon / craft store)
Triangular punch paper cutter (Amazon / craft store)
HOW TO CREATE ANGLED LAYERS
Everything You Need to Buy