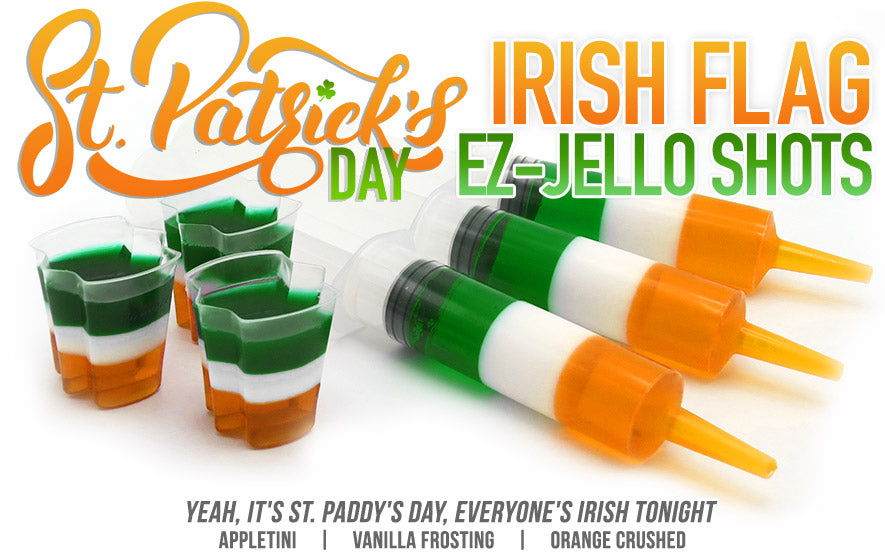 ---
EZ-SQUEEZE SAINT PATRICK'S DAY
IRISH FLAG JELLO SHOTS!
Yield is approximately 90 EZ-Squeeze Jello Shots.
We prefer to pre chill the alcohol as well
Fill each cup one-third of the way per colored layer.
Chill between each layer until jello is just set.
For best layer results, let the hot liquid gelatin come to room temperature - meaning don't add hot liquid gelatin on top of a cold layer.
Place completed shots in the refrigerator overnight (minimum eight hours).
Green Layer
1 Packet Appletini EZ Jello Mix

2 1/2 Cups Hot Water

1 1/2 Cups Alcohol of your choice
White Layer
1 Packet Vanilla Frosting EZ Jello Mix

2 1/2 Cups Hot Water

1 1/2 Cups Alcohol of your choice
Orange Layer
1 Packet Orange Crushed EZ Jello Shot Mix

2 1/2 Cups Hot Water

1 1/2 Cups Alcohol of your choice
Everything You Need to Buy